August Virtual Party (Aug21P03) - All Are Welcome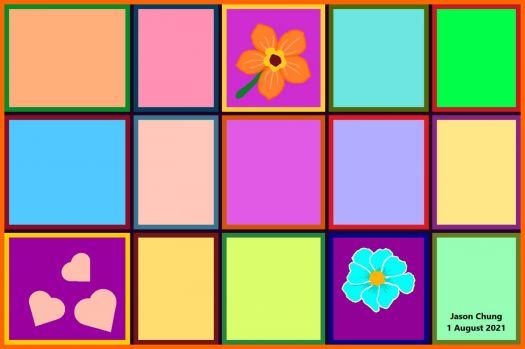 Why are you reporting this puzzle?
"Summer
The seasons between spring and autumn,
comprising in the Northern Hemisphere
the warmest months of the year:
June, July and August.
The period of finest development, perfection,
or beauty previous to any decline;
the summer of life."

- Cecelia Ahern


Dear Friends, Jigidiers and Guests,

The Magic Carpet has flown all of you to the August virtual party which is being held at Mousehole ( pronounced as 'mausel') in Cornwall, United Kingdom.

Mousehole is a quaint Cornish village and fishing port situated in south west Cornwall. This village has a walled stone harbour. It has traditional Cornish architecture of granite façades and slate roof cottages and cobbled narrow lanes.

We will be staying at one of the luxury cottages and shall watch the first light of dawn as it shines on the cottages along the waterfront, overlooking the picturesque harbour of Mousehole.

This harbour village has good places to eat, drink, shop and enjoy some art in the galleries.

The beautiful harbour is famous for the Mousehole Cat - "The Mousehole Cat is a children's book written by Antonia Barber and illustrated by Nicola Bayley. Based on the legend of Cornish fisherman Tom Bawcock and the stargazy pie, it tells the tale of a cat who goes with its owner on a fishing expedition in rough and stormy seas. The book has won awards, including the 1998 British Book Award for Illustrated Children's Book of the Month. It has since been adapted into a 2015 animated film, a puppet show and is being adapted as a stage musical."

One very stormy winter, none of the fishermen of the village of Mousehole in Cornwall have been able to leave the harbour for a long while and the village is near starvation. Tom Bawcock (only called 'Tom' in the book) and his loyal black and white cat, Mowzer, decide to brave the storms and set sail to catch some fish. When the boat hits the storm, it is represented by a giant "Storm-Cat", which allows Mowzer to eventually save the day by soothing the storm with her purring. This purring becomes a song and while the Storm-Cat is resting Tom is able to haul in his catch and return to harbour. When they arrive back at the village, the entire catch is cooked into various dishes, including half a hundred "star-gazy" pies, on which the villagers feast." (quote is taken from Wikipedia).

I know that Petey, Pal and Kit Cat, my three dear furry friends will be joining us at this party with their mums, Webpeggy and her mum, and I know that these boys, who are regular guests at my virtual parties, will be fascinated with a place named Mousehole, a children's book entitled Mousehole Cat and that they cannot wait to lay their eyes on the famous Stargazy Pie.

There are many interesting places to visit and things to do at and around Mousehole. But, as I may be featuring some of them in future virtual parties, I will not mention them here. At this virtual party, we will spend our time at Mousehole.

We can explore this old Cornish fishing village with its colour-washed pretty granite houses and walk along its narrow cobbled lanes.

The galleries and craft shops sell beautiful arts and crafts, including works from local artists. It is great to look around and buy some unusual presents or souvenirs. The lovely village of Mousehole spreads out from the harbour and much of it is along the harbour edge and extending to a few narrow streets back. Mousehole is definitely a lovely and easy place to explore.

Mousehole small harbour has lots of fishing boats. We can walk around the harbour wall and take in the stunning views of Mount's Bay, St Michael's Mount Marazion Cornwall and St Clement's Isle which is a small rocky island.

We can visit the small sandy beach by the harbour as well as a pebble and stone beach on the other side of the village.

We can also take a boat trip.

It is my pleasure to announce that we have a birthday girl (Webpeggy) and couple (Donna and her hubby) who will be celebrating their 49th wedding anniversay at this August virtual party :

Webpeggy's furry pals have decided to sing the birthday song for this occasion and they have now taken over centre stage as the birthday and wedding anniversary cakes are being brought into the room. Pal, Petey and Kit Cat have beautiful voices that harmonise so well together as they move to the beat and rhythm of the music. They have added so much joy and life to this party. Thank you, my trusted friends.

Let us raise our glass of champagne to wish Webpeggy and all the birthday boys and girls a Very Happy Birthday filled with Joy, Happiness and Good Health and we shall also toast to Donna and her hubby and all wedding anniversay couple to wish them A Happy Marriage filled with Bliss and Love.

The feast for this August virtual party will be Cornish Delights and we will be enjoying them at an amazing place where we can eat and enjoy exceptional views of the fishing harbour.

The Virtual Chef has prepared many Cornish dishes (as well as other popular dishes that may not be of Cornish origin) for us to enjoy.

So let us start. Oh, I see my three furry friends heading towards the table. Come, folks, let us join them.

There is a Salad Bar - with Garden Salad, Superfood Salad, Crab Salad, etc.

I see on the main table, a spread of yummy food - one of them really stands out and our furry friends are heading straight for it as they find this dish to be fascinating. And that is - Stargazy Pie. This is Cornwall's most famous dish and it orginates in Mousehole in the 16th century. We find pilchards' heads poking out of the pie crust (to make them look like they are gazing at the stars). This Savoury Cornish Pie has Hard-boiled Eggs, Potatoes, Bacon, Mustard-Flavoured Custard and Whole Cornish Sardines (Pilchards) poking their heads through the top crust.

Some of the other dishes on the table are :

- Vegetable Soup

- Seafood Soup

- Sandwiches filled with Newlyn Crab meat.

- An assortment of Freshly Made Sandwiches with various kinds of fillings.

- Cornish Pasty - Shaped as a half moon, this crispy and juicy pastry is filled with Diced Beef, Potatoes, Turnips, Onions, Herbs and Seasonings. Its crust is crimped on one side.

- Fish and Chips

- Grilled Fish

- Cornish Hevva Cake (Heavy Cake). This Unleavened Cake is made of Lard, Butter, Flour, Sugar, Milk and Raisins with a criss-cross pattern resembling a fishing net on top of the cake. Enjoy it with a Cup of Hot Tea.

- Saffron Cake - This Cake has a rich, spicy taste and is made with Bread Dough, Saffron, Assorted Fruit and Spices, Sugar and Butter. It is served sliced with Clotted Cream on the side.

- Cornish Fairings. This is a traditional biscuit of Cornwall. It is like ginger nut but more buttery.


At tea time, we will be enjoying :

- Cornish Cream Tea.

We will be having the Cream Tea at a Seaside Café. Plain Scones, Strawberry Jam and Clotted Cream will be served with a Pot of Tea.


Dinner will be homecooked delicious Cornish fare.

Next morning, Our Virtual Chef has arranged for a visit to a Farmer's Market. After which he will organise a Cooking Demonstration of some famous Cornish dishes for us to watch and learn, and of course, to sample his culinary skills. John and I have already signed up for this and hope that all of you will join this educational and fun event.

On the last day of our virtual vacation at Mousehole, John and I will present each of you, our dear friends, with a gift package comprising of :

- T Shirt with prints of Mousehole Cottages and Harbour.

- Miniature paintings of Mousehole.

- Mousehole Jigsaw Puzzle.

- Cornish Sea Salt - A prized Natural Salt originating from Cornwall that contains serpentine and gabbro, minerals that are rich in magnesium and calcium. The flavour of Cornish Sea Salt is smooth.

And for my furry friends (Pal, Petey and Kit Cat), each of them be presented with a carnip toy in the shape of a Stargazy Pie.

The Magic Carpet will then fly you all safely home.

I hope that you all have enjoyed this August Virtual Party at Mousehole and I hope to see all of you again at the next virtual party that I will host on 1 September.

Do drop by and solve my puzzle, as we celebrate birthdays, wedding anniversaries and all happy occasions at my monthly puzzles which I will post on the first of every month.

Cheerio
Jason :-)


This puzzle, drawn and painted by me, is posted in 4 sizes - 12, 96, 260 and 600 pieces.
Please enjoy and have fun solving this puzzle.


Puzzle 827

jasonchung2 is my main account.
I also post puzzles at jasonchung (my second account).
jasonchung1 (my third account) is now a sealed account, however, you can still solve puzzles there.