April 7 - now the sun is setting in this same spot... (part 1/3 - or maybe more)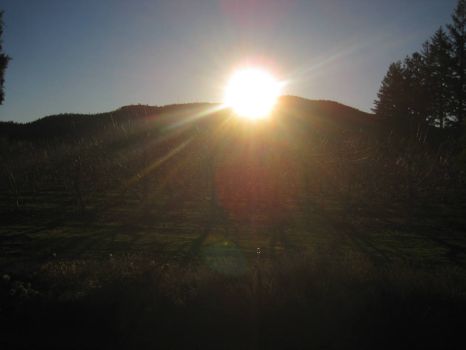 Why are you reporting this puzzle?
The higher the latitude you live at, the faster you see a change in the length of day and how far north or south of due west (or east) the sun sets (or rises).

There seems to be almost a pause at the Solstices, when the sun's N/S movement stops and stills, it almost lulls you into thinking it might stay there forever... then it begins the trek to the other extreme, and the closer you get to the Equinox the faster it seems to race.

This is always hard to take in late August through October, as it starts to feel like, at that rate, we will soon never see the sun again.

No wonder religions developed in high latitude places were based on the seasons and placed so much importance on marking the movements of the sun (and moon). Without artificial light (not to mention modern food distribution and storage), everyone would be attuned to their movements across the heavens and what each season had in store for them.

I took this photo in early April, and the sun is setting in the same spot today. It is nature's way of warning me that cold weather is on the way so I'd better be getting the hay in, drying and salting the fish, smoking the meat, drying the berries, stockpiling the wood / peat / coal, and repairing my winter clothes.