☁️🐦Majestic rulers of the sky🐦☁️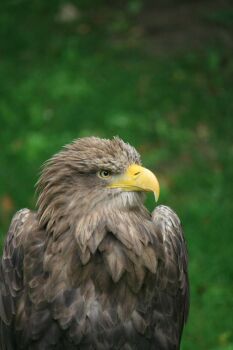 Why are you reporting this puzzle?
Haliaeetus albicilla - White-tailed eagle
the largest European eagle, more than 90 cm tall with a wingspan of over 2.5 m, belongs to the hawk family. This imposing bird builds large nests from branches on rocks and trees. Some young birds migrate south for the winter. In many European countries it has almost disappeared, thanks to strict protection its numbers are slowly growing, yet it is one of the critically endangered species.
... interesting thing is the eyes of these amazing birds. When you're outside, look at the sky where the plane is flying, usually at an altitude of between 10 and 11 thousand meters. And now imagine a pigeon flying next to an airplane. We see the plane as a small comma and the bird of prey sitting on our hand sees the airplane and also the pigeon ... unbelievable, what do you say?