May 2 Flower quilt 2022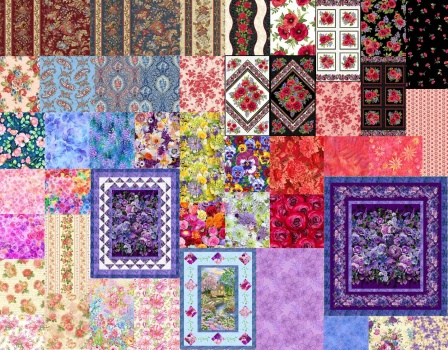 Why are you reporting this puzzle?
This May puzzle is full to the brim with fabulous floral fabrics. April, May and June are the time of year in the northern hemisphere when flower festivals are held. I was lucky enough to visit the Hampton Court Flower Festival in 1994 bu still have to visit the Chelsea Flower Show, so I do it by remote thanks to the internet. There are many others available. Here is some information I've scavenged about some of the beauties that are happening this year again after a two year Covid-19 hiatus so they are all promising better and bigger for 2022.

Pennsylvania Horticultural Society Philadelphia Flower Show: The USA's longest-running horticultural event offers spectacular displays by garden, floral, and landscape designers from across the globe. From June 11 to 19, the 200-year-old festival will be held outdoors in historical FDR Park.

Bloemencorso Bollenstreek: Millions of flowers and the work of 1500 volunteers culminate in this amazing spectacle, highlighting the beauty of one of the flower bulb-growing regions of the Netherlands. After a two-year hiatus, dozens of floats filled with live flowers and cars adorned with huge bouquets will follow a 26-mile itinerary on April 23 from Noordwijk to Haarlem.

Virginia's Historic Garden Week: From April 23 to 30, you can tour more than 120 private properties, public gardens, and historic sites across the state of Virginia from the foothills of the Shenandoah Valley to the Tidewater beaches. This spring event, which is celebrating its 89th year, showcases the best gardens in the state including gems such as Old Town Alexandria, Leesburg's wine and horse country, and the waterfront homes of the Eastern Shore.

EPCOT International Flower and Garden Festival: Embrace your inner child at EPCOT, which celebrates all things green from March 2 to July 4. In addition to the allure of EPCOT itself, you'll enjoy topiaries of your favorite Disney characters and get to explore themed gardens including a fragrance garden, butterfly house, honeybee walk, kitchen garden, bamboo forest, and tropical rainforest. There are also international gardens from Italy, Germany, China, Japan, France, Morocco, England—and even a prehistoric garden imagining life 65 million years ago.

Skagit Valley Tulip Festival: the Skagit Valley, 60 miles north of Seattle, hosts a festival celebrating its stunning tulip and daffodil fields during the entire month of April. Founded in 1984, the festival features art shows, bike rides, a street fair, and self-guided driving tours of the gorgeous flower fields in and around the valley.

Biltmore Blooms: When George Vanderbilt built the family home in western North Carolina, he hired landscape architect Frederick Law Olmstead to design memorable gardens. Today, visitors can enjoy a succession of more than 100,000 flowers in bloom during the estate's annual flower festival from April 1 to May 26. The daffodils begin the show, followed by azaleas, tulips, rhododendrons, and roses. More than 1,000 orchids also will be in bloom in the conservatory. This year, a special exhibit featuring enormous displays of the art of Impressionists such as Monet, Renoir, and Degas will add another level of enjoyment to your visit.

Cherry Blossoms — Tokyo, Japan: The gorgeous pink hue of the cherry blossoms in Tokyo brings in millions of tourists each year. These famous pink beauties begin to bloom in mid-March to early May. A friend's daughter lives in Seoul so she has been posting photos of their cherry blossom season on Facebook.

But there are many other flower festivals in Japan. Here are a few:

Freesia Festival (Hachijojima, Tokyo): Hachijojima is a subtropical island that is beautifully covered with over 350,000 freesia blossoms. Freesia flowers come in a variety of colors including pink, red, yellow, purple, and white. This unique phenomenon creates a rainbow canvas that stretches across the entire island.

Poppy Festival (Poppy Happy Square, Saitama) takes place in May. Japan's largest poppy fields stretch all down the banks of the Arakawa river with more than 30 million poppy flowers. On a sunny day, you can expect a great view of Mt. Fuji featuring a colorful flower carpet of poppy flowers.

Hitachi Seaside Park, Ibaraki: Hitachi Seaside Park in Hitachinaka City, Ibaraki prefecture is a literal heaven for flower lovers. From late March through May, gorgeous flower fields are filled with a wide variety of unique and exciting flowers, such as narcissus, tulips and pastel blue nemophila flower fields.

If none of these are near you find out about any local flower festivals or exhibits that you can visit to tore your souls. "If you look the right way, you can see that the whole world is a garden." Frances Hodgson Burnett

Credits: eQuilter, Jan Shore for Benartex, Minick & Simpson for Moda FabricsMinick & Simpson for Moda Fabrics, Hoffman Fabrics, Nicholas Lapp for Maywood Studio, Rubin Design Studio exclusively for eQuilter, Elizabeth's Studio, Wing and A Prayer for Timeless Treasures.
What is the filter for?

Some puzzles are shown behind a filter. These puzzles are within our guidelines but still is material of which some will take great offence. Read more about the reasons and workings of the content filter and how you can set your account up to either see or not see puzzles that are shown behind a filter.