"Tornado"
"Tornado"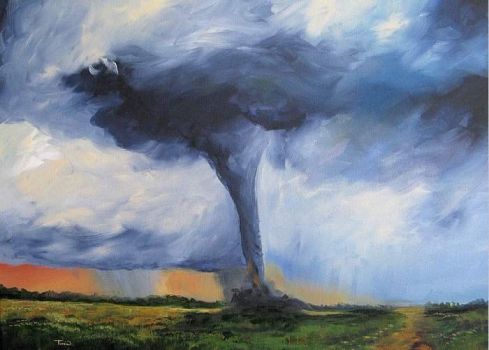 Why are you reporting this puzzle?
Statement by Torrie Smiley;
I am originally from West Texas, now residing and painting in Charlotte, North Carolina. I have been drawing as long as I can remember. I spent more time drawing in class when I probably should have been paying attention. In high school, I had my first opportunity to paint with a wonderful local artist Nell Bennett. That is when I fell in love with painting. I really can't call myself self-taught because there are so many people through the years who have helped me be a better artist. As with many of artists, the slight detour came when I became an adult and fell victim to the phrase; "You need to get a real job, painting is a hobby not a career." Fast forward twenty years, my daughter had to complete a painting for an art class project. She waited until the last weekend to start. I told her I used to paint back in the day, and we would paint together. We bought acrylic paint since she needed it to be dry by Monday. We both started from the same reference photo. That weekend was all that it took— I started painting almost every day. Being a single mom with two teenage girls, painting kept me from going crazy!. Painting was my drug of choice, it was addicting. I soon realized I would not be able to afford my new "hobby" if I didn't find a way to pay for the paint—quality art supplies are expensive.