Diving bell discovered in the boathouse at Glensheen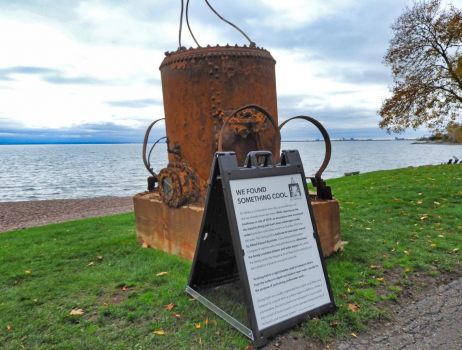 Why are you reporting this puzzle?
Taken October 11, 2021

The sign reads in part:

We found something cool. Or rather, a construction crew dug up something cool that we already knew was there. While cleaning up the boathouse in July of 2019, an excavation crew uncovered the massive diving bell that's been submerged under water (and then the rocks after a storm in October 2017) for decades....

"A diving bell is a rigid chamber used to transport divers from the surface to depth and back in open water, usually for the purpose of performing underwater work….

"Diving bells are usually suspended by a cable, and lifted and lowered by a winch from a surface support platform. Unlike a submersible, the diving bell is not designed to move under the control of its occupants, nor to operate independently of its launch and recovery system."
What's up with Jigidi and erotica?

Blatant sexual objectification is not allowed on Jigidi. You'll find our review criteria for erotica here, along with a more in-depth rundown on our stand on blatant sexual objectification on Jigidi.