*WARNING* CUTE-O-METER ALERT!!!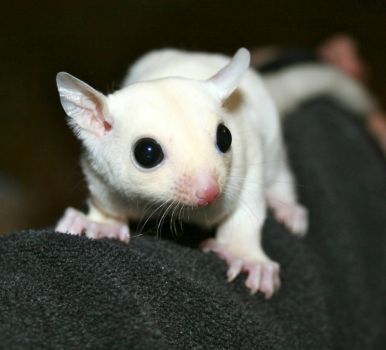 Why are you reporting this puzzle?
Leucistic Sugar Glider!

LEUCISM is a rare condition where there is a loss/reduction of multiple pigments in an animal. This results in an animal having white/pale colouration of the skin/fur/feathers/scales or cuticle, where there would normally be colour.

More common than complete absence of pigment cells is localized Hypopigmentation - which causes irregular patches of white where there would normally be colour - most commonly known as "PIED" or "PIEBALD." Like in horses, dogs, cats, ball pythons etc.

ALBINISM is caused through lack of MELANIN only.
Animals have multiple pigment cell types - e.g. "Xanthophores" which are responsible for Yellow. So, an ALBINO with this pigment is not entirely white, but has a pale yellow tint.

So, how to spot the difference between LEUCISTIC and ALBINO?

It's all in the EYES! A LEUCISTIC animal's eyes are not affected, as the cells in the eyes form independently, so they tend to have normally coloured eyes.

An ALBINO has RED/PINK eyes - due to the lack of MELANIN in both retina and iris, causing the underlying blood vessels to show through.