Rebecca Hey—The Mountain Ash, or Rowan Tree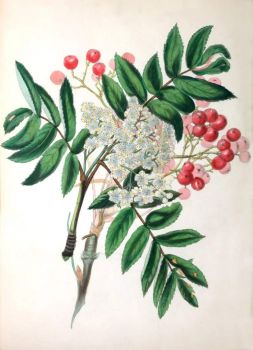 Why are you reporting this puzzle?
I attaching Ulangariver's (Nev) description of another Rebecca Hey painting:

From the Tam O'Neill Fine Arts site:-

Sheet size: 5 1/2 x 8 inches.
1833 London.
DESCRIPTION: Nicely drawn series on English trees. The color is especially noteworthy as it was accomplished entirely by the artist. Wilfred Blunt states, it "recalls the distant leisured, carefree childhoods of our great-grandparents in a happier England, an England when there was no atom bomb, and income tax was a penny in the pound...(from The Art of Botanical Illustration).

And on a most interesting site called Brain Pickings:-

In her illustrated encyclopedia of trees, following one of flowers she had published fifteen years earlier to great popular success, Hey invites the reader to "partake the enthusiasm of the writer towards the whole leafy race," highlighting thirty-six tree species found in British forests — from the oak, that most English of trees, iconic non-human protagonist of Virginia Woolf's Orlando, to the cedar, a cousin of which is now giving scientists new clues about ecological resilience. Each chapter opens with one of Hey's handsomely hand-colored engravings of the tree's leaves at the tip of a branch and closes with one of her original poems celebrating the species. Nestled between is the natural history of the tree, punctuated by thoughtfully chosen quotations from literary classics, both poetry and prose.