Nesting Black-browed Albatross, the Falklands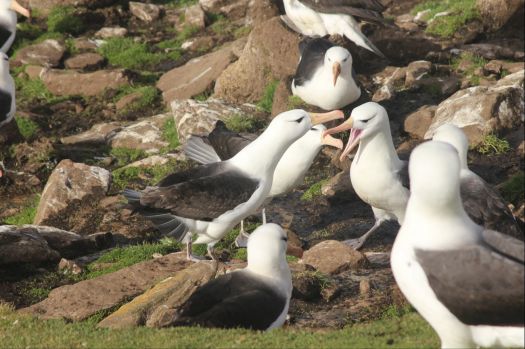 Why are you reporting this puzzle?
There are 400,000 breeding pairs of these black-browed albatross on the Falklands. It is a medium-sized albatross, at 80 to 95 cm long with a 200 to 240 cm wingspan and an average weight of 2.9 to 4.7 kg. and can have a natural lifespan of over 70 years.
This species normally nests on steep slopes covered with tussock grass or flat grassland on the coast. They breed annually laying one egg from between September and November. Incubation is done by both sexes over more than 2 months. After hatching, the chicks take 120 to 130 days to fledge. Juveniles will return to the colony after two to three years but only to practise courtship rituals, as they start breeding around the 10th year.