Cliff Swallow Feeding Chick, Lagoon Trail, Del Mar, California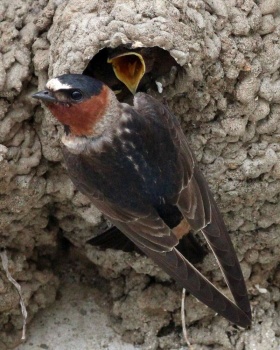 Why are you reporting this puzzle?
Please send hope and good wishes to the cliff swallow chicks. They are dying again this year. Last year we lost about half of them, probably because there weren't enough insects to feed them. (I've been doing trail patrol for 12 years, and the only other time chicks died was when the mud nests fell apart one year.) I saw seven dead chicks under the 55 nests over the trail Tuesday, but there are still lots of chicks in the nests and the parents seemed to be arriving regularly with breakfast. I'm keeping my fingers crossed that the insects have shown up now. I moved the dead chicks so I'll know if there are more tomorrow.