Classic Ford Model A's-03
Classic Ford Model A's-03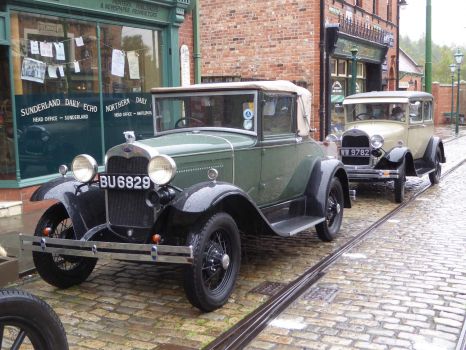 Why are you reporting this puzzle?
Parking Obstruction!

A pair of UK-built Ford Model-A's standing on the cobbled town street at Beamish Museum, and unforgivably obstructing the tram track!

Nearest the camera is BU 6829, a 1931-built 2043cc Cabriolet model produced at Ford's Trafford Park (Manchester) plant shortly before the company moved operations to their new and much better remembered site at Dagenham (Essex). This car is believed to be one of only eight surviving British-made examples of this model.

Behind it is WW 9782, a 2200cc Tudor sedan of 1929.

The Ford Model-A was manufactured from 1927 until 1931 and represents Henry Ford's second great marketing success after the hugely popular Model-T range. By the end of production in 1931 almost five million Model-A's had been produced.