Susan Wraight Netsuke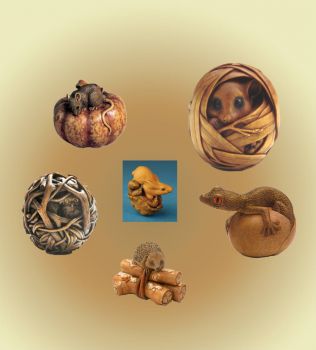 Why are you reporting this puzzle?
Originally a jeweler, who completed an M.A. in Jewelry and Silversmithing at the Royal Academy of Art, London in 1985, Susan Wraight maintained her scale, but switched mediums and skills and won the National Wood Design Award in the same year. She belongs to a western revival of an eastern tradition of miniature sculptures named Netsuke. Japanese in origin, Netsuke were originally used as toggles and were worn between the Edo period 1615-1868. Trade with the west influenced the style of Japanese dress and eventually rendered the ceremonial Netsuke obsolete. Susan Wraight embraces the spirit of Netsuke; however respectful of the tradition, she does not use ivory, nor does she engage in any of the customary themes associated with netsuke: flora, myths and fantastic beasts. Instead, she uses non-precious materials, especially wood, and draws on a western vocabulary, in particular our indigenous animal species.
What are the symbols on the jigsaw puzzles?

When you browse jigsaw puzzles on Jigidi, you may notice different symbols on the puzzles. One symbol lets you bookmark the puzzle for later, and other symbols tell you about any previous activity you may have on the puzzle.