Carl Reiner RIP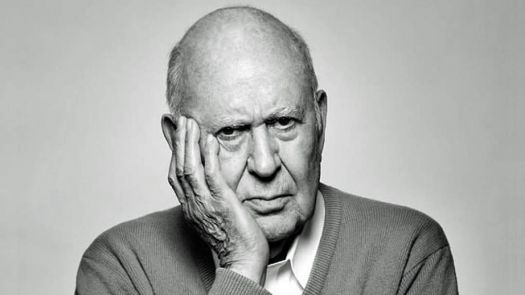 Why are you reporting this puzzle?
Carlton Reiner[3] (March 20, 1922 – June 29, 2020) was an American comedian, actor, director, screenwriter, and publisher whose career spanned seven decades. During the early years of television comedy from 1950 to 1957, he co-wrote and acted on Caesar's Hour and Your Show of Shows, starring Sid Caesar. In the 1960s, Reiner was best known as the creator, producer, writer, and actor on The Dick Van Dyke Show.[4][5]

Reiner formed a comedy duo with Mel Brooks in "2000 Year Old Man" and acted in films such as It's a Mad, Mad, Mad, Mad World (1963), The Russians Are Coming, the Russians Are Coming (1966) and the Ocean's film series (2001–2007). He also had great success as a film director and writer and in the 1970s and 1980s. He co-wrote and directed some of Steve Martin's most successful films, including The Jerk (1979), and also directed notable comedies such as Where's Poppa? (1970), Oh, God! (1977), and All of Me (1984). Over his long and distinguished career, Reiner won many awards and honors including nine Emmy Awards[6], one Grammy Award, and The Mark Twain Prize for American Humor. He was the father of actor and director Rob Reiner, author Annie Reiner, and artist Lucas Reiner, and the grandfather of Tracy Reiner.
Carl Reiner was born in the Bronx, New York City, on March 20, 1922, to Irving, a watchmaker, and Bessie (née Mathias) Reiner.[7] His parents were Jewish immigrants; his father was from Austria and his mother was from Romania.[8] His older brother Charlie served in the 9th Division in World War II and his ashes are buried at Arlington National Cemetery.[9] At age 16, Charlie read in the New York Daily News about a free dramatic workshop being put on by the Works Progress Administration and told Carl about it (he would later credit Charlie with having changed his career plans).[10] His uncle Harry Mathias was the first entertainer in his family.[11]
In 1943, Reiner was drafted into the Army Air Forces and served during World War II, eventually achieving the rank of corporal. He had initially trained to be a radio operator, but after spending three months in the hospital recovering from pneumonia, he was sent to Georgetown University for ten months of training as a French interpreter; it was here that he had his first experience as a director, putting on a Molière play entirely in French. In 1944, after completing language training, he was sent to Hawaii to work as a teleprinter operator. The night before he was scheduled to ship out for an unknown assignment, he attended a production of Hamlet by the Special Services entertainment unit. Following an audition for actor and Major Maurice Evans, he was subsequently transferred to Special Services. Over the following two years, Reiner performed around the Pacific theater, entertaining troops in Hawaii, Guam, Saipan, Tinian and Iwo Jima until he was honorably discharged in 1946.
Reiner performed in several Broadway musicals (including Inside U.S.A. and Alive and Kicking) and had the lead role in Call Me Mister. In 1950, he was cast by Max Leibman in Sid Caesar's Your Show of Shows, appearing on air in skits while also working alongside writers, such as Mel Brooks and Neil Simon. Reiner also worked on Caesar's Hour with Brooks, Simon, Woody Allen, Larry Gelbart, Mel Tolkin, Mike Stewart, Aaron Ruben, Sheldon Keller, and Gary Belkin.

Starting in 1960, Reiner teamed with Brooks as a comedy duo on The Steve Allen Show. Their performances on television and stage included Reiner playing the straight man in 2000 Year Old Man. Eventually, the routine expanded into a series of 5 comedy albums and a 1975 animated television special, with the last album in the series winning a Grammy Award for Spoken Comedy Album.[13][14] The act gave Brooks "an identity as a comic performer for the first time," said Reiner.[15] Brooks's biographer, William Holtzman, called their 12-minute act "an ingenious jazz improvisation ...",[15] while Gerald Nachman described Reiner's part in guiding the act:

The routine relies totally on the team's mental agility and chemistry. It's almost heresy to imagine Brooks performing it with any other straight man. Reiner was a solid straight man to Caesar, but with Brooks he is the second-banana supreme...guiding his partner's churning comic mind.[15][16]


Reiner with Goldie Hawn on the set of Rowan & Martin's Laugh-In on January 16, 1970
In 1959, Reiner developed a television pilot titled Head of the Family, based on his own personal and professional life. However, the network did not like Reiner in the lead role for unknown reasons. In 1961, it was recast and re-titled The Dick Van Dyke Show and became an iconic series, making stars of his lead actors Dick Van Dyke and Mary Tyler Moore. In addition to writing many of the episodes, Reiner occasionally appeared as temperamental show host Alan Brady. The series ran from 1961 to 1966. In 1966, Reiner co-starred in The Russians Are Coming, the Russians Are Coming.

On The Dick Van Dyke Show, he began his directing career. After the series ended its run, his first film feature was an adaptation of Joseph Stein's play Enter Laughing (1967), which, in turn, was based on Reiner's semi-autobiographical 1958 novel of the same name. Balancing directing, producing, writing, and acting, Reiner worked on a wide range of films and television programs. Films from his early directing career include Where's Poppa? (1970), Oh, God! (1977), and The Jerk (1979).

In one of his memoirs, he writes, "Of all the films I have directed, only Where's Poppa? is universally acknowledged as a cult classic. A cult classic, as you may know, is a film that was seen by a small minority of the world's film goers, who insist it is one of the greatest, most daring, and innovative moving pictures ever made. Whenever two or more cult members meet, they will quote dialogue from the classic and agree that 'the film was ahead of its time.' To be designated a genuine cult classic, it is of primary importance that the film fail to earn back the cost of making, marketing, and distributing it. Where's Poppa? was made in 1969 for a little over $1 million. According to the last distribution statements I saw, it will not break even until it earns another $650,000."[17]

Reiner had a large role in the early career of Steve Martin, by directing and co-writing four films for the comedian: The Jerk in 1979, Dead Men Don't Wear Plaid in 1982, The Man with Two Brains in 1983, and All of Me in 1984. Reiner also appeared in both The Jerk, playing a version of himself, and Dead Men Don't Wear Plaid.


Reiner with Dick Van Dyke in 2000
In 1989, he directed Bert Rigby, You're a Fool. In 1990, he narrated the Grimm children's story "The Musicians of Bremen" (music by Bernard Rogers) for a CD of classical music for children.

In 2000, Reiner was honored with the Mark Twain Prize for American Humor at the Kennedy Center, where he was honored by fellow friends and comedians, Mel Brooks, Dick Van Dyke, Mary Tyler Moore, Steve Martin, Rob Reiner, Jerry Seinfeld, Ray Romano, and Joy Behar.

A year later, he portrayed Saul Bloom in Ocean's Eleven, Steven Soderbergh's remake of 1960's Ocean's 11, and later reprised the role in Ocean's Twelve (2004) and Ocean's Thirteen (2007). From 2004 to 2005, Reiner voiced Sarmoti in Father of the Pride.

Reiner was the author of several books, including his 2004 memoir My Anecdotal Life: A Memoir and novels, such as his 2006 novel NNNNN: A Novel. In American Film, he expressed his philosophy on writing comedy: "You have to imagine yourself as not somebody very special, but somebody very ordinary. If you imagine yourself as somebody really normal and if it makes you laugh, it's going to make everybody laugh. If you think of yourself as something very special, you'll end up a pedant and a bore. If you start thinking about what's funny, you won't be funny, actually. It's like walking. How do you walk? If you start thinking about it, you'll trip."

In May 2009, he guest-starred as a clinic patient on the season finale of House. Reiner also voiced Santa in Merry Madagascar and reprised his role in the Penguins of Madagascar episode "The All Nighter Before Christmas." In December 2009, he guest-starred as a television producer Marty Pepper on Two and a Half Men. In June 2010, Reiner guest starred in Hot in Cleveland as Elka Ostrovsky's date and reprised the role in July. He also made appearances in The Cleveland Show as Murray and wrote the story for the episode "Your Show of Shows", named after the program that started his career. In October 2013 and January 2014, Reiner reprised his role on Two and a Half Men.

In 2012, Reiner appeared as a guest on Jerry Seinfeld's show Comedians in Cars Getting Coffee. They talked at a diner about his comedy career and Reiner invited Jerry to come and have dinner with Mel Brooks and himself. According to Reiner, every night, Brooks heads to Reiner's house to eat, watch Jeopardy (he tapes it) and watch movies. The one rule for movies: It has to be one where "somebody says, 'Secure the perimeter!' or 'Get some rest.'" Brooks "falls asleep with his mouth open" every time.
On December 24, 1943, Reiner married singer Estelle Lebost. The two were married for 64 years until her death in 2008. At the time of the marriage, Reiner was 21 and she was 29. Estelle delivered the line "I'll have what she's having" in the deli scene of their son Rob's 1989 film When Harry Met Sally....[2] She died on October 25, 2008, at age 94.[19]

He was the father of Rob Reiner (b. 1947); poet, playwright, and author Annie Reiner (b. 1949); and painter,[20] actor, and director Lucas Reiner (b. 1960).[2]

Reiner described himself as a Jewish atheist.[8] He said, "I have a very different take on who God is. Man invented God because he needed him. God is us."[21][22] He said in 2013 he developed an atheistic viewpoint as the Holocaust progressed.[23]

Reiner was a lifelong Democrat. He endorsed Bernie Sanders for the Democratic Party nomination during the 2016 United States presidential election.[24] Reiner's residence was in Beverly Hills, California.[25] At the age of 98, he was among the oldest celebrities active on Twitter.
Reiner died at his home on June 29, 2020, aged 98, in the company of his family.