Eagle Nebula, Pillars of Creation - Recaptured for 2015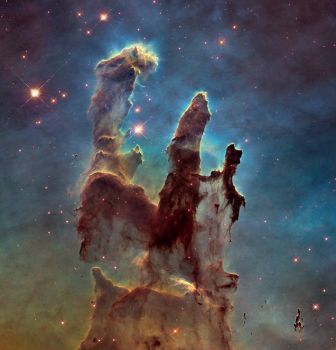 Why are you reporting this puzzle?
Although NASA's Hubble Space Telescope has taken many breathtaking images of the universe, one snapshot stands out from the rest: the iconic view of the so-called "Pillars of Creation." The jaw-dropping photo, taken in 1995, revealed never-before-seen details of three giant columns of cold gas bathed in the scorching ultraviolet light from a cluster of young, massive stars in a small region of the Eagle Nebula, or M16.

And now, in celebration of its upcoming 25th anniversary in April, Hubble has revisited the famous pillars, providing astronomers with a sharper and wider view. As a bonus, the pillars have been photographed in near-infrared light, as well as visible light. The infrared view transforms the pillars into eerie, wispy silhouettes seen against a background of myriad stars. That's because the infrared light penetrates much of the gas and dust, except for the densest regions of the pillars. Newborn stars can be seen hidden away inside the pillars.