Hoopoe Bird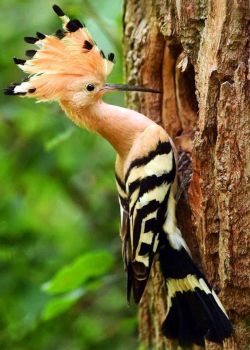 Why are you reporting this puzzle?
The hoopoe has a long, pointy crest with black markings. When the hoopoe is excited, the crest rises and spreads out like an elaborate headdress.

The black-and-white barred pattern of the back, wings, and tail look as if he is wearing a robe. His fawn-colored chest, neck, and face perk up tall and proud while his long, pointed beak gives him the appearance of wisdom.
Latin name: Upupa epops
Unique beautiful feature: Elegant crown of feathers
Where they are found: Africa, Europe, Asia
Size: Length: 10 to 11 inches (26 to 28 cm); Weight: 1.66 to 3.06 ounces (47 to 87 g); Wingspan: 16.5 to 18 inches (42 to 46 cm)
Diet: Insects, seeds, berries, frogs, small reptiles

Not only is it the national bird of Israel, but even the ancient Egyptians regarded it as sacred by illustrating it on temples and tombs.

During the breeding season, hoopoes are monogamous and highly territorial. Males stay active during this period between serenading the female and beak-dueling with other males.

The female, who looks similar to the male but with duller colors, bears the sole responsibility of incubating her clutch of five to nine eggs.