The Greyhounds of the Comte de Choiseul, Gustave Courbet, 1866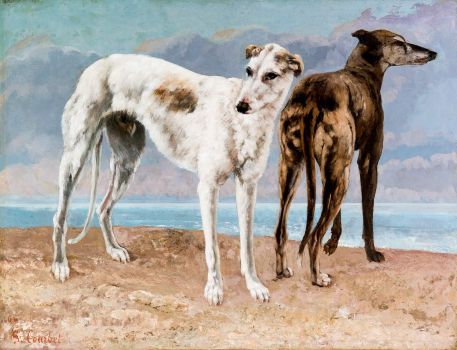 Why are you reporting this puzzle?
The Greyhounds of the Comte de Choiseul
Gustave Courbet, French, 1819–1877
1866
Oil on canvas
Depicts Deauville, Basse-Normandie, France, Europe
On View, Gallery 205
35 1/4 x 45 7/8 in. (89.5 x 116.5 cm)
framed: 45 1/2 × 56 1/8 × 3 5/8 in. (115.6 × 142.6 × 9.2 cm)
Public Domain

From the St. Louis Art Museum website:
"Here, Gustave Courbet shows two greyhounds with an aristocratic bearing. Perhaps they reflect characteristics of their owner, the young Count de Choiseul, who had proudly commissioned their portrait. The artist was a noted animal painter and often represented animals with human-like emotions. The elegant greyhounds are viewed from below to emphasize their height. They are silhouetted against the expansive shore of Deauville on the Normandy coast in France, where Courbet spent the summer of 1866 as a guest of the Count."
Are you looking to change your password?

It's always a good idea to consider if you need to change your passwords on the different services you use. We have created a guide for you on how you can change your password on Jigidi.