Zimbabwe Stamps
Zimbabwe Stamps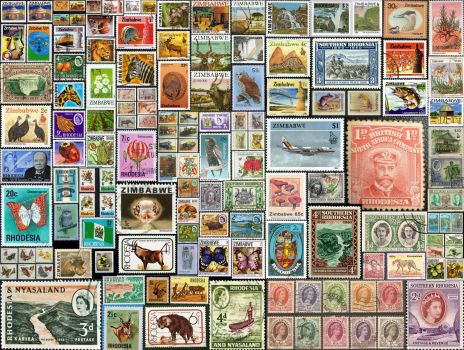 Why are you reporting this puzzle?
We're travelling due north up the Great North road to Zimbabwe tonight. It's a long trip in reality and the borderpost at Messina/Beit Bridge is always a long stop with at least several hours on each side. We travel across the great, grey, green, greasy Limpopo river into a country that is like and yet unlike South Africa.

My husband, Mike grew up there from the age of ten as a Methodist missionary's child. We used to make the trip at least once a year to see my husband's mum in Harare but we also managed to travel to many of Zimbabwe's beautiful scenic attractions. Mike knew the country really well so I've hiked over granite mountains to find little known Bushman paintings and up Nyangani, the tallest mountain in the country on the border with Mocambique. We watched wildlife in Wankie (Hwange) National Park and in the Matopos where Rhodes is buried.

We spend a memorable five days on a canoe down the Zambezi with two of my step kids. Sitting in three inches of water in the middle of this huge river with crocodiles, hippos and elephants in direct view was incredible. Victoria Falls is also one of those staggering sights/sites that puts man into perspective.

I hope you all enjoy Zimbabwe, once Rhodesia, British colony, independent nation and now recovering from the ravages of the dictator and thief-in-chief, Robert Mugabe.

I'll leave you with this evocative poem to help you imagine it:

Rhodesian Scents
The smell of fresh rain on soil,
Of a pot of sadza* on the boil.
The new leaves on Msasa trees,
Warm aroma of cattle on the breeze.
Of boiling coffee in the early morn,
The crisp fresh air at break of dawn.
Of newly ploughed virgin land,
The tassels on a good maize stand.
The sound as a city comes slowly awake,
Of the bush at first day break.
Happy children going to school,
Summer thunder storm then the cool.
Fish eagles cry from high above,
The soft cooing of a ringneck dove.
Of trickling water in a creek,
A bleating calf while it's still weak.

The sight of an eagle in full flight,
Of morning chasing away the night.
The first rays of the morning sun,
Of changing shades as day is done.
The forest right down in a vale,
Of lightening from a far off gale.
The farmers planting out new crops,
Of rays of colour through rain drops.

Peter Barlow

*sadza is the Shona word for stiff maize porridge, a staple food in the country.