Plunky Breathes Deeply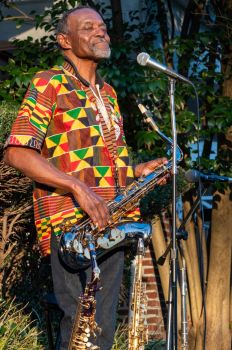 Why are you reporting this puzzle?
James "Plunky" Branch projecting positive vibes during an Easter evening porch concert, Richmond, VA 2021.

From Style Weekly:
Art That Helped
Jan 5, 2021
Writers look back at the music and other art that helped them through 2020.
BY BRENT BALDWIN, RICH GRISET, HILARY LANGFORD AND PETER MCELHINNEY

"If this year had a hero, it was James 'Plunky' Branch. Every night he came out and played for his neighbors. Amid the past year's historic racial reckoning, his lifelong dedication to melding ancestral and modern culture gained overdue critical recognition. In the days when Confederate icons of the Lost Cause were being stripped from their pedestals, while neighbors gathered in lawn chairs and children chased each other down the grassy median, he spun out a brighter future, touched with hope in every note."- Peter McElhinney
Are you a Jigidi Plus member?

When you become a Jigidi Plus member, you'll enjoy the completely ads-free Jigidi experience. Also, you directly support Jigidi and help us be as free as possible to make Jigidi even better every day.