"Character In A Village Street"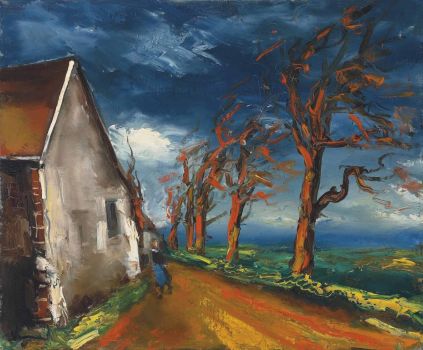 Why are you reporting this puzzle?
Maurice de Vlaminck was born on Rue Pierre Lescot in Paris. His father Edmond Julien was Flemish and taught violin and his mother Joséphine Caroline Grillet came from Lorraine and taught piano. His father taught him to play the violin. He began painting in his late teens. In 1893, he studied with a painter named Henri Rigalon on the Île de Chatou. In 1894 he married Suzanne Berly. The turning point in his life was a chance meeting on the train to Paris towards the end of his stint in the army. Vlaminck, then 23, met an aspiring artist, André Derain, with whom he struck up a lifelong friendship. When Vlaminck completed his army service in 1900, the two rented a studio together, the Maison Levanneur, which now houses the Cneai,[5] for a year before Derain left to do his own military service.[3] In 1902 and 1903 he wrote several mildly pornographic novels illustrated by Derain.[6] He painted during the day and earned his livelihood by giving violin lessons and performing with musical bands at night. Museum, Moscow In World War I he was stationed in Paris, and began writing poetry. Eventually he settled in Rueil-la-Gadelière, a small village south-west of Paris. He married his second wife, Berthe Combes, with whom he had two daughters. From 1925 he traveled throughout France, but continued to paint primarily along the Seine, near Paris. Resentful that Fauvism had been overtaken by Cubism as an art movement Vlaminck blamed Picasso "for dragging French painting into a wretched dead end and state of confusion". During the Second World War Vlaminck visited Germany and on his return published a tirade against Picasso and Cubism in the periodical Comoedia in June 1942. A gifted story teller, Vlaminck wrote many autobiographies, which were somewhat marred either by vagueness or lack of absolute truthfulness. Vlaminck died in Rueil-la-Gadelière on 11 October 1958.