I think I can!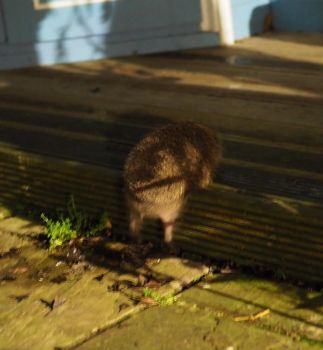 Why are you reporting this puzzle?
This chubby hedgehog managed to climb the 6 inches up onto the deck to get the food. There were some bricks to make it easier but no, it climbed up with its bag legs dangling.
There was another small one in the front garden so I picked it up and made it a bed for the night. There vets only do emergencies on a Saturday so I phoned Whitby Wildlife Rescue.
This little one weighed 390g.
The lady in Whitby said it should be OK as there is still 4-6 weeks of fattening up time left so to let it rest through the day and put it out tonight.
I mentioned the little one and she said the vets had delivered it to them and it was now 200g. She said it was not the smallest they've had - that one was 90g!!!
She said Filey vets are really good with rescued animals; they will keep and look after them until a volunteer can collect or deliver to the sanctuary. How wonderful as she said some vets just wouldn't bother.
I put the one out tonight. It waited a few minutes at which time another tiny one appeared. So I will keep an eye out for that one and also the released one just to make sure they are putting on weight.
Life is never dull! It'll give me something to do now we are going into lockdown for another month...