Meatloaf Meatballs and Mashed Potatoes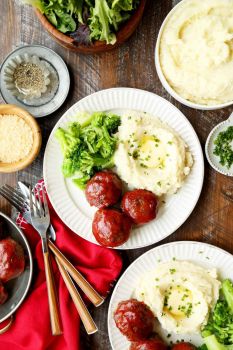 Why are you reporting this puzzle?
Chef Jonathan Melendez writes,

"I feel like sometimes meatloaf gets such a bad rap as being an over-cooked slab of ground beef with not much flavor at all. Speaking of, I feel like ground beef gets a bad rap in general, but honestly, I love ground beef even more than a fancy steak, but that's a story for another time. Back to the meatloaf haters. I think the problem is that those naysayers have probably not tried a great meatloaf yet. That's all about to change because these Meatloaf Meatballs are a fun take on such a classic dish, and one that I grew up eating often. But this isn't anything like the meatloaf I had growing up (sorry mom). In writing those I had a vision of putting these meatloaf meatballs in some garlic bread rolls and turning the whole thing into garlic bread meatloaf meatball subs. WOW."

Recipe at the link.