"Reflected Landscape"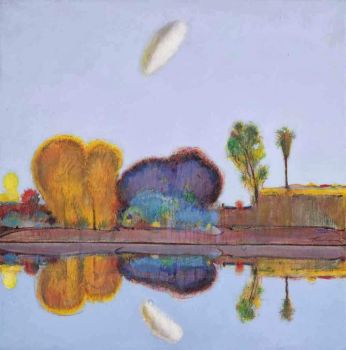 Why are you reporting this puzzle?
Born in Arizona in 1920, Wayne Thiebaud's interest in art was inspired initially by cartoons and comic strips such as George Herrman's Krazy Kat. The teenage Thiebaud established himself as a cartoonist, working for a brief time as an animator for the Walt Disney studios and drawing a regular comic strip during a World War II stint in the Air Force. He also worked as a poster designer and commercial artist in both California and New York before deciding to become a painter. Thiebaud's formal art training was provided under the GI Bill at San José State College and the California State College in Sacramento. Thiebaud received a teaching appointment at Sacramento Junior College in 1951, while still in graduate school, and has since enjoyed a long and distinguished teaching career. In 1956, Thiebaud moved to New York, where he was in the midst of the Abstract Expressionist movement. He was particularly interested in work by Willem de Kooning and Franz Kline, but fashioned his own approach to art, adapting the thick pigments used by the abstract expressionists to his own subjects and style. Having returned to California, by the early 1960s Thiebaud's best-known works, colloquial paintings of food and consumer goods, had emerged in mature form. Depictions of everyday items in American life—sandwiches, gumball machines, jukeboxes, toys, cafeteria-type foods, and cakes and pies—reflect a turn toward representational painting. These deadpan still life subjects are set against light backgrounds, often white, with the objects rendered in lush, shiny oil paints. The thick, insistent textures and the playful colors Thiebaud uses for his commonplace objects and their enframing shadows challenge our perceptions of art subjects and meaning. They are still life paintings, but with a difference. Although his works are often classified as part of the American pop art movement, Thiebaud also painted portraits, but even these retained his signature broad treatment of light and shadow, thick paint, and bright Kool-Aid colors. In 1972, Thiebaud settled permanently in San Francisco and added paintings of the landscape and city views to his subject matter. Using the unique geography of the Bay Area for inspiration, Thiebaud's landscapes are dramatic representations distinguished by forms plunging at breathtaking angles into or across space and rendered in bold patterns of color. Thiebaud has continued to paint still-life as well, and with affinities to the work of many artists held in The Phillips Collection, for example Chardin, Hopper, Morandi, and Diebenkorn; his still-life paintings reflect the continuity and visual connections between past and present that guided Duncan Phillips's vision for the collection.