Ocqueoc Falls, Oct.2021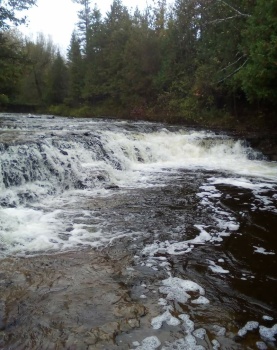 Why are you reporting this puzzle?
Ocqueoc Falls is the largest waterfall in Michigan's Lower Peninsula. Before getting excited--do note that Michigan's major waterfalls are all in the U.P. Ocqueoc has a drop of all of five feet!

That said, it's a very pretty little cascade with two advantages over its big cousins. It is swimmable and (thanks to ramps) is even wheelchair accessible. It is, in fact, the only universally accessible waterfall in the U.S. When I was a kid, my family rented a cabin on the nearby Ocqueoc Lake (good fishing!), and I was happy to rediscover this charmer.

If you hold your left hand, palm down, on a map of Michigan, you'll find the Ocqueoc near the tip of your index finger....