The Ultimate Sacrilege!.....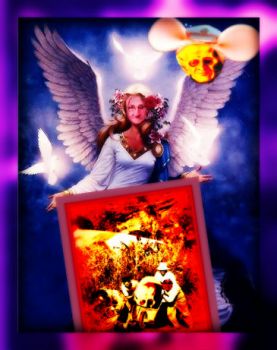 Why are you reporting this puzzle?
BUGOSI BUST PURLOINED!!
Last night, the Bugosiian guardian angel-thingy appeared before me in a vision.......a vision so startling that I promptly fell out of bed - for she showed me a shocking image indeed!.....
The Angel Adonisii Bugosii was holding a photo which depicted three men and one very round man, hauling a cart containing the decapitated head from one of Bonga-Bonga's most cherished statues - "World-Famous Leader Chillin In The Garden" by Rupert Rodin-Bugosi.......
Before I fell out of bed, the Angel whispered in my ear these cryptic words....."The CHEF is gathering
ingredients for a MONUMENTAL feast in the sun - seek the ROBBER".........
I somehow think there is a clue in there, somewhere...........