"Cool Drink"
"Cool Drink"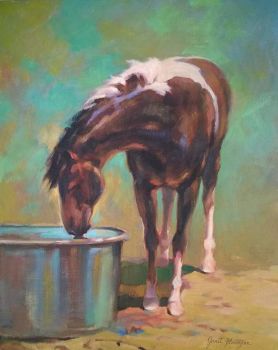 Why are you reporting this puzzle?
Statement by Janet Flanagan;
"My passion for art and animals has always been an integral part of my life since I can remember. I choose oil paint as a medium using broad brush strokes in the backgrounds with details on my focal points which many times are the eyes and face. The lighting plays a large part as to give dimension and drama to my subjects with an expression, a movement or just contemplation. Through my paintings I hope to convey and increase the awareness of our environment, our wildlife and planet."The artist lives on a high mountain ranch with her husband and a menagerie of pets.