Egon Schiele, "Kneeling Female in Orange Dress"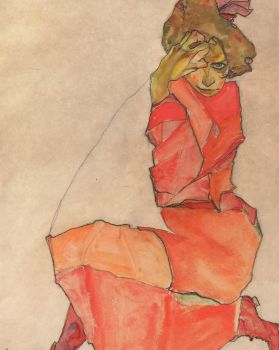 Why are you reporting this puzzle?
Egon Schiele (1890 – 1918) was an Austrian painter. A protégé of Gustav Klimt, Schiele was a major figurative painter of the early 20th century. His work is noted for its intensity and its raw sexuality, and the many self-portraits the artist produced, including nude self-portraits. The twisted body shapes and the expressive line that characterize Schiele's paintings and drawings mark the artist as an early exponent of Expressionism.

When Schiele was 15 years old, his father died from syphilis, and he became a ward of his maternal uncle, Leopold Czihaczek, also a railway official. Although he wanted Schiele to follow in his footsteps, and was distressed at his lack of interest in academia, he recognised Schiele's talent for drawing and unenthusiastically allowed him a tutor, the artist Ludwig Karl Strauch. In 1906 Schiele applied at the Kunstgewerbeschule in Vienna, where Gustav Klimt had once studied. Within his first year there, Schiele was sent, at the insistence of several faculty members, to the more traditional Akademie der Bildenden Künste in Vienna in 1906. His main teacher at the academy was Christian Griepenkerl, a painter whose strict doctrine and ultra-conservative style frustrated and dissatisfied Schiele and his fellow students so much that he left three years later.

In 1907, Schiele sought out Gustav Klimt, who generously mentored younger artists. Klimt took a particular interest in the young Schiele, buying his drawings, offering to exchange them for some of his own, arranging models for him and introducing him to potential patrons. He also introduced Schiele to the Wiener Werkstätte, the arts and crafts workshop connected with the Secession. Schiele's earliest works between 1907 and 1909 contain strong similarities with those of Klimt, as well as influences from Art Nouveau. In 1908 Schiele had his first exhibition, in Klosterneuburg. Schiele left the Academy in 1909, after completing his third year, and founded the Neukunstgruppe with other dissatisfied students. In his early years, Schiele was strongly influenced by Klimt and Kokoschka. Although imitations of their styles, particularly with the former, are noticeably visible in Schiele's first works, he soon evolved his own distinctive style.

Klimt invited Schiele to exhibit some of his work at the 1909 Vienna Kunstschau, where he encountered the work of Edvard Munch, Jan Toorop, and Vincent van Gogh among others. Once free of the constraints of the Academy's conventions, Schiele began to explore not only the human form, but also human sexuality.

The Leopold Museum, Vienna houses perhaps Schiele's most important and complete collection of work, featuring over 200 exhibits. The museum sold one of these, Houses With Colorful Laundry, for $40.1 million at Sotheby's in 2011. Other notable collections of Schiele's art include the Egon Schiele-Museum, Tulln, the Österreichische Galerie Belvedere, and the Albertina Graphic Collection, both in Vienna. Viktor Fogarassy collected works by Schiele, including Dämmernde Stadt.