Girolamo Savoldo (Italian, ca 1480–1548), Shepherd with a Flute (ca 1525)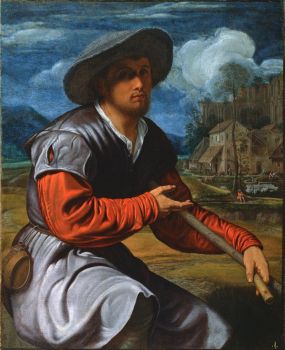 Why are you reporting this puzzle?
Oil on canvas
98.4 x 79.4 cm (38 3/4 x 31 1/4 in)

From the website of the J. Paul Getty Museum in Los Angeles:

Little is known about the life of this Italian painter, who was originally from Brescia but appears to have spent most of his career in Venice. He is recognized for his skill in painting twilit scenes like this one, in which a large figure of a shepherd is set against a darkened sky, gazing wearily out toward the viewer. Resting his left arm on a staff, seemingly tired from his day's work, the shepherd loosely holds a flute. With his right hand he gestures towards a farmhouse in the background, behind which imaginary ancient ruins loom. Though better known for religious subjects, here Salvoldo presents a genre scene, perhaps influenced by contemporary Flemish artists.

The figure of the shepherd is clearly delineated against his surroundings and appears almost luminous in the evening light. Savoldo's use of deep, rich colors and expressive textures show the influence of contemporary Venetian painters, such as Titian (1485–1576) and Lorenzo Lotto (1480–1556). The musical shepherd was perhaps meant to idealize and celebrate the charms of pastoral life for a sophisticated urban audience. Paintings of this type became popular in Venice in the early sixteenth century, when interest in pastoral poetry and drama also began to flourish.