Paddling a pumpkin at the Great West Coast Pumpkin Regatta
Paddling a pumpkin at the Great West Coast Pumpkin Regatta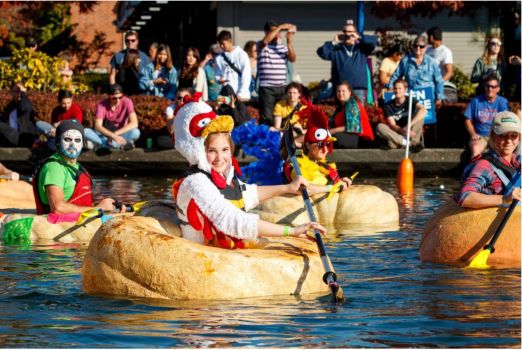 Why are you reporting this puzzle?
In 2004 the Pacific Giant Vegetable Growers were looking for a location to do an end-of-season paddle with a handful of giant pumpkins. Today the West Coast Giant Pumpkin Regatta, held at the Lake at Tualatin Commons, has grown into an event with a national reputation that draws thousands of people each year.

If you have never seen the Pumpkin Regatta then you probably have never seen costumed characters paddling 1,000 pound pumpkins around the Lake of the Commons in a series of wacky races.

Over the last 15 years the award-winning West Coast Giant Pumpkin Regatta has become Oregon's most anticipated Fall event. Spectators come from not only the Pacific Northwest but also from all over the United States and Canada.