Our Sweet Molly Puss. Larger.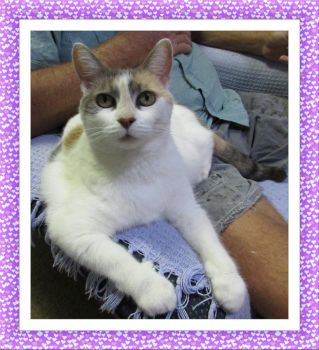 Why are you reporting this puzzle?
Julian had been mowing the lawn in his old work clothes and came to sit down so Molly jumped up onto the arm of the chair. and posed so nicely for a photo. This pic was taken quite a while ago as we in drought now and have no lawn to cut!

For those of you who don't know the story of our Molly, she turned up at our house years back, filthy, starving and on heat. We had three other cats then but of course we took her in. She is the last one now.

We found out that her owners kept one cat and moved away, leaving Molly behind. How could you do that!! She was quite nasty when we first got her, but has mellowed now that she is secure. She now rules the house.