Fonthill Castle - and I've posted images of it before.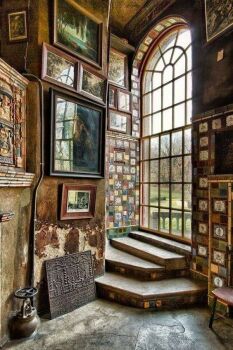 Why are you reporting this puzzle?
I will check and see if I "keywords" correctly. I corrected it - you can now find it and this one in the future by search either Henry Mercer or Fonthill Castle or Bucks County PA
It is in Pennsylvania.
It is also known as The Mercer Museum.
-------------------------------------------------------------------------------------------
Here is what I prepared for that earlier image:
Fonthill Castle was built at the turn of the 20th century by the eccentric Henry Mercer. Mercer built the castle as a modern twist on medieval architecture.

Henry Mercer filled his castle with archeological finds that he collected during his lifetime, including ancient Babylonian tablets. The ceilings in many of the rooms are decorated with tiles from the Mercer Tile Factory nearby.

From the Museum website:
FONTHILL CASTLE
Built between 1908-1912, Fonthill was the home of Henry Chapman Mercer (1856-1930). Archaeologist, anthropologist, ceramist, scholar and antiquarian, Mercer built Fonthill both as his home and as a showplace for his collection of tiles and prints. The first of three Mercer buildings in Doylestown, Fonthill served as a showplace for Mercer's famed Moravian tiles that were produced during the American Arts & Crafts Movement. Designed by Mercer, the building is an eclectic mix of Medieval, Gothic, and Byzantine architectural styles, and is significant as an early example of poured reinforced concrete.

Upon his death in 1930, Mercer left his concrete "Castle for the New World" in trust as a museum of decorative tiles and prints. He gave life rights to Fonthill to his housekeeper and her husband, Laura and Frank Swain. In accordance with Mercer's Will, Mrs. Swain resided in the house and conducted occasional tours until her death in 1975.

Upon her death, the Trustees of the Mercer Fonthill Museum determined to operate Fonthill as a historic house museum and contracted with the Bucks County Historical Society to provide professional care and management. In 1990, the Bucks County Orphans court appointed the Trustees of the Bucks County Historical Society as the permanent Trustees of the Mercer Fonthill Museum thus solidifying the commitment to professionalism at the site.