Great-Great-Not-So-Great Grandfather Leland Z......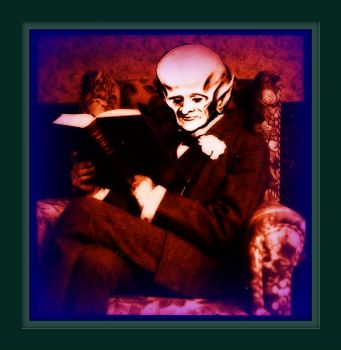 Why are you reporting this puzzle?
My great-great-not-so-great-grandfather, the studious Sir Leland Z. Bugosi is shown in this charming study, stringently studying in his study...........
Sir Leland Z. staked a claim to fame with his startling discovery of the striking similarity between earthworms and tadpoles.......the systematic study of statistics had already told him that 99% of the worm population flourished underground - his stroke of genius was to start breeding tadpoles underground, which led to the subterranean tadpole streams seen today throughout Bonga-Bonga..........
In his lifetime, Sir Leland Z. was described as 'stark staring bonkers' by many a learned gentleman........his standing in the pantheon of lunatics may have diminished, but his steady rise to stardom as a scientist is slowly starting to show what a true genius he was...........
TESTING,TESTING......
AHA!.......I CAN COMMUNICATE HERE!........FEAR NOT, FAITHFUL FOLLOWERS-NOT ALL LINES HAVE BEEN SEVERED!