Pileated Woodpecker: male on red pine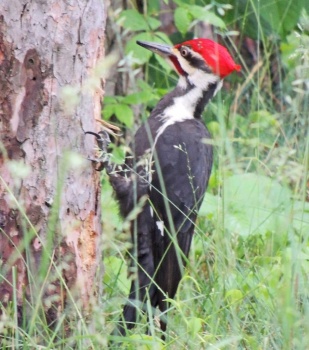 Why are you reporting this puzzle?
I'd seen a Pileated Woodpecker here at the new place before, and heard one a couple of times, but this morning I heard one close. It then flew down to the base of one of my Red Pines, and while on the ground, started peeling away bark (you can see the area below his feet). You can tell it's a male from the red mustache - the female's is black.

This time, I was able to sneak in and get my camera. Most of my photos of him working from the ground were throwaways because the camera focused on the grass instead of him. But then he went up the tree this far and I got this shot.