12sept2017Irma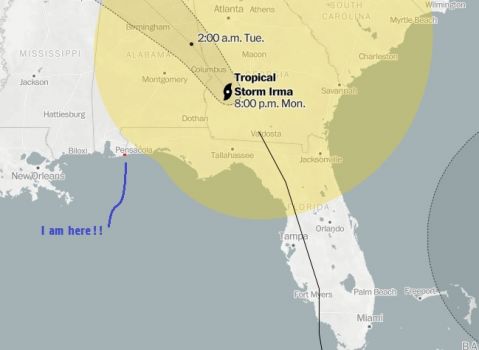 Why are you reporting this puzzle?
More like I avoided Irma. My stress level was very high as the info online was not very clear and wrong every time I looked and I had just learned of Irma on Friday.

Yesterday I noticed rain sprinkles several times, wind was basically breezy, nothing unusual. The temperature dropped roughly 15-20 degrees and now at 68 degrees, basically compares to normal here. Much of the state is a mess and now Irma is beginning it's course in Georgia.
I think the stress level was so high because my street was eerily quiet, no bird sounds at all, nothing except the crickets were very loud at night. I thought the entire street had evacuated, still not sure if they did. I hope clean up and recovery is quickly taken care of for all the people who were hit.