Aurlandsfjord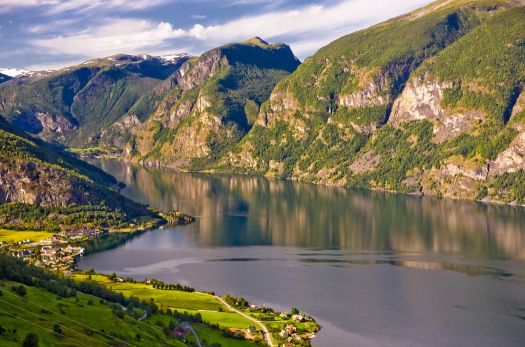 Why are you reporting this puzzle?
Der Aurlandsfjord ist ein Seitenarm des Sognefjords. Die Gegend um den Fjord ist durch Landwirtschaft und seit einigen Jahrzehnten auch durch Tourismus geprägt. In früheren Zeiten waren die Orte entlang des Fjordes sehr abgelegen. Mitte des 19. Jahrhunderts gab es eine starke Auswanderung nach Amerika. Erst durch den Bau von Tunneln in den 1980er und 1990er Jahren wurde die Gegend das ganze Jahr über auf der Straße erreichbar.
Im Südosten zweigt der Nærøyfjord vom Aurlandsfjord ab. Wichtige Orte am Meeresarm sind Flåm und Aurlandsvangen. Am Aurlandsfjord liegt auch das Dorf Undredal mit der Stabkirche Undredal.
(Quelle: www.wikimedia.org)

The Aurlandsfjord is a branch of the Sognefjord. The area around the fjord is characterised by agriculture and, since a few decades, also by tourism. In earlier times, the villages along the fjord were very remote. In the middle of the 19th century, there was a strong emigration to America. It was not until tunnels were built in the 1980s and 1990s that the area became accessible by road all year round.
In the southeast, the Nærøyfjord branches off from the Aurlandsfjord. Important places along the inlet are Flåm and Aurlandsvangen. The village of Undredal with the stave church Undredal is also located on the Aurlandsfjord.

El Aurlandsfjord es un brazo del Sognefjord. La zona que rodea el fiordo se caracteriza por la agricultura y, desde hace unas décadas, también por el turismo. En épocas anteriores, los lugares a lo largo del fiordo eran muy remotos. A mediados del siglo XIX se produjo una fuerte emigración a América. No fue hasta la construcción de túneles en los años 80 y 90 que la zona se hizo accesible por carretera durante todo el año.
En el sureste, el Nærøyfjord se bifurca del Aurlandsfjord. Lugares importantes de la ensenada son Flåm y Aurlandsvangen. El pueblo de Undredal con la iglesia de duelas Undredal también se encuentra junto al Aurlandsfjord.