5 Scientific Discoveries Spotted By Examining The Unlikeliest Stuff - crosswords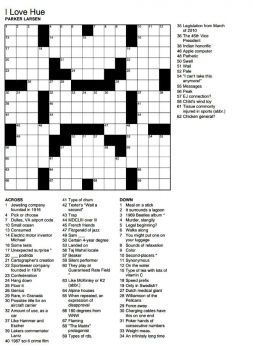 Why are you reporting this puzzle?
From an article at Cracked.com by Ivan Farkas, July 13, 2021.

His intro:

"Science is great. It's so universal and accessible that you use its tenets even when you don't realize it. Every time you spray the Golden Corral parking lot with puke, then limit yourself to seven plates on the next (day's) visit, you're practicing science through trial and error. And that's one of the best things about science, as the following examples illustrate: Even when it sounds stupid, it's still just as valuable as "good science."

2
The New York Times Crossword Puzzle Highlights America's De-Culturization

If the proliferation of reality TV and firework-related fatalities isn't ample evidence of America's mass-dumbening, the devolution of the Times crossword puzzle provides further proof. Over the past 80 years or so, the New York Times' famed crossword has become easier and now includes fewer, simpler global references. Compared to its cultural peak in 1943, it now features two-thirds fewer international references and one-third fewer foreign words than in 1966. And, considering the demographics that dabble in crossword generally inhabit the upper two quartiles of intelligence, this suggests *everybody* is getting dumber.

Past puzzles required at least some knowledge of foreign words. Like mit ("with" in German) or vir ("man" in Latin), reflecting a golden age when men spoke the language of Virgil and smoked cigarettes around preschoolers. But that epoch has closed, and crossword clues have become more obvious. For example, "Uber" is no longer clued as a German word but as a car-sharing service (that screws its customers).

To be fair, some foreign words *have* increased in frequency. But even that highlights a negative trend: they're words people only know because they've eaten them (taco, dim sum, churro). In the same vein, the term "Lipo" no longer refers to the ancient Chinese poet but a surgical procedure.

And the geographical questions have decreased in difficulty. In the past, a clue may have simply hinted "Burkina ____," referring to Burkina Faso, the landlocked West African country known for its, uh ... the landlocked West African country. But now, the puzzlers offer an extra bit of information, hinting that the answer is an African country. Overall, international geographic references have decreased, from more than 15% to around 5%.

But screw it, what's the point of knowing all those obscure countries and funny-sounding, hard-to-spell words when the only three letters that matter are U, S, and A, bay-bee!