Delivering Mail In Nether-Bonga.......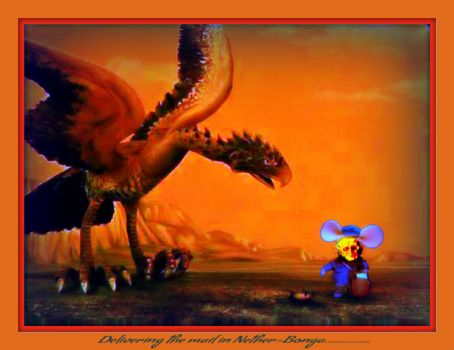 Why are you reporting this puzzle?
Though the barren, isolated region of Nether-Bonga (known as the land without tadpoles) is
uninhabited by human beings (as we know them), nevertheless I invariably have a bag full of letters
addressed to nobody there.......Being a person of high moral principles, I feel it my duty to deliver these 'letters to nobody in particular' - therefore and aft, once a year I make the arduous journey to 'the land where nobody goes'.............
It is a journey fraught with peril, for the one thing that does live there is the fearsome and dreaded
Pterodactylus Bugosisimus, which normally feeds on little rocks, but allegedly prefers the extremely
rare delicacy of small postmen with big ears......
I knew that my only chance of survival was to not turn my back on the ferocious beast......I therefore
made that part of the journey walking backwards, and though I fell over a few times, the predator did
not attack........
These words are written for the benefit of any future small postmen with big ears, who may have to undertake the same journey......