The World-Renowned Bonga-Bonga Plasticotta Army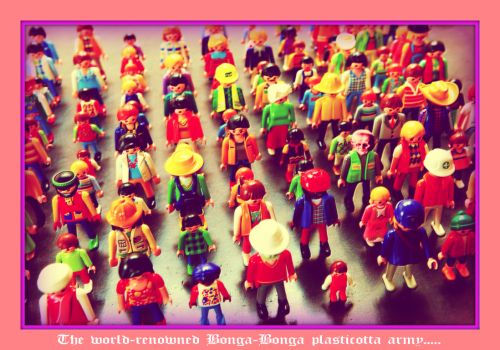 Why are you reporting this puzzle?
The Plasticotta Army or the "Plasticotta Warriors and Horses" is a collection of plasticotta sculptures depicting the armies of Basil-Basil Bugosi, the first Emperor of Bonga-Bonga. It is a form of funerary art buried with the emperor in 210–209 BC and whose purpose was to protect the emperor in his afterlife......

The figures, dating from approximately the late third century BC were discovered in 1974 by local farmers, while hunting for tadpoles in a Nether-Bonga cesspit.......

After a rigorous cleansing, they (the figures, not the farmers) are now on display outside the toilets next to the Oils, Lithographs, & Drawings section of the Bugosi Art Gallery (O.L.D.B.A.G.), where they can be admired by the world.....