HERMAN MELVILLE HOUSE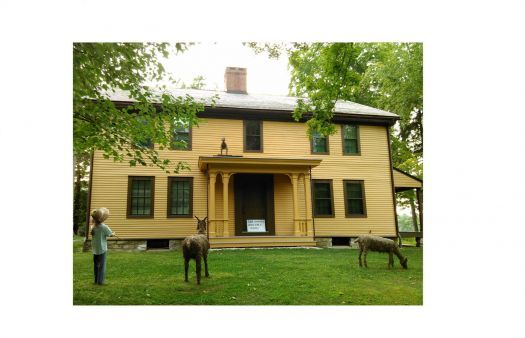 Why are you reporting this puzzle?
Herman Melville[a] (August 1, 1819 – September 28, 1891) was an American novelist, writer of short stories, and poet from the American Renaissance period. Most of his writings were published between 1846 and 1857. Best known for his sea adventure Typee (1846) and his whaling novel Moby-Dick (1851), he was almost forgotten during the last thirty years of his life. Melville's writing draws on his experience at sea as a common sailor, exploration of literature and philosophy, and engagement in the contradictions of American society in a period of rapid change. The main characteristic of his style is probably its heavy allusiveness, a reflection of his use of written sources. Melville's way of adapting what he read for his own new purposes, scholar Stanley T. Williams wrote, "was a transforming power comparable to Shakespeare's".[1]

Born in New York City as the third child of a merchant in French dry-goods, Melville's formal education stopped abruptly after the death of his father in 1832, shortly after bankruptcy left the family in financial straits. Melville briefly became a schoolteacher before he took to sea in 1839. This voyage to Liverpool as a common sailor on a merchant ship became the basis for his fourth book, Redburn (1849). In late December 1840 he signed up aboard the Acushnet for his first whaling voyage, but jumped ship eighteen months later in the Marquesas Islands. His first book, Typee (1846), a fictionalized account of his life among the natives there, became such a success that he worked up a sequel, Omoo (1847). The same year Melville married Elizabeth Knapp Shaw; their four children were born between 1849 and 1855.

In August 1850, Melville moved his family to a farm near Pittsfield, Massachusetts, where he established a profound but short-lived friendship with Nathaniel Hawthorne. Moby-Dick was published in 1851 to mixed reviews, but proved a commercial failure. Less than a year later, Melville's career as a popular author effectively ended with the cool reception of Pierre. The next years he turned to writing short fiction for magazines, such as "Bartleby, the Scrivener" and "Benito Cereno." After the serialized novel Israel Potter was published as a book in 1855, the short stories were collected in 1856 as The Piazza Tales. In 1857, Melville voyaged to England and the Near East; twenty years later, he worked his experience in Egypt and Palestine into an epic poem, Clarel: A Poem and Pilgrimage in the Holy Land (1876). In 1857 The Confidence-Man appeared, his last prose work published during his lifetime. Having secured a position as Customs Inspector, he moved to New York. He now turned to poetry, the first example of which is his poetic reflection on the moral questions of the Civil War, Battle-Pieces and Aspects of the War(1866).
What is the filter for?

Some puzzles are shown behind a filter. These puzzles are within our guidelines but still is material of which some will take great offence. Read more about the reasons and workings of the content filter and how you can set your account up to either see or not see puzzles that are shown behind a filter.