Green Lynx Spider munching on an ant, San Marcos, California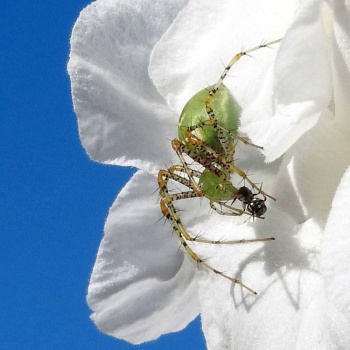 Why are you reporting this puzzle?
I requested some gardening books be sent to the San Marcos library where I now live and found my way to that library when the first of the books arrived on Wednesday. I wandered around the area after picking up the books, finding the civic center and a community center and even a paved trail. More books arrived on Thursday so I went before the library opened and hiked a couple of miles on the trail. There were a few birds, though none willing to be photographed, and a few bees, and then, near the end of my walk, this lovely green spider who didn't care in the slightest about me and my camera. Sorry, but I have no idea what the white flower is. My phone app didn't have a clue and just about everything grows in San Diego county.