Exercising His Heel Horse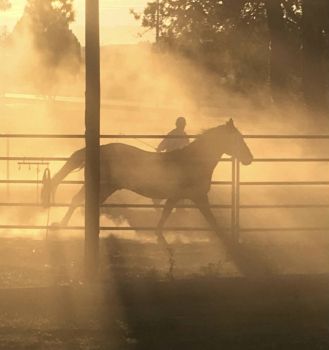 Why are you reporting this puzzle?
The man in this photo is getting his horse "legged up" for the roping season.

He's a heeler, which is one member of a two-person team. Their sport is called "team roping". The objective is for the header to catch the head of a steer and position him for the heeler. The heeler first keeps the steer aligned for the header, then must catch the hind heels of the steer. When they both pull their ropes tight, their time is recorded. If they fail to catch the steer, they're disqualified. Winners are determined first by making catches in all rounds, then by fastest time.

Oh, and that man exercising his horse is my octogenarian father!