Jaw Breakers
Jaw Breakers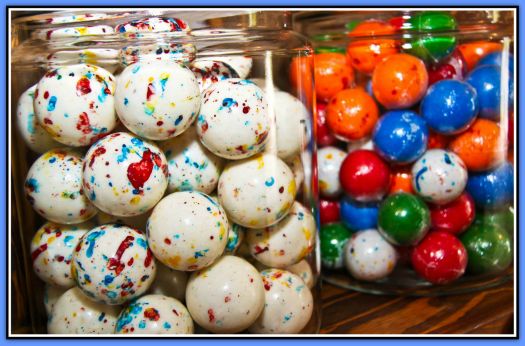 Why are you reporting this puzzle?
The jawbreaker is a type of hard, round candy that is ideally so difficult to bite down on that it must be sucked. Jawbreakers range from the size of a hazel nut to the size of a golf ball, and come in many flavors and colors.

They are popular with children, and often sold in vending machines. Though originally a trade name, the term jawbreaker became so widespread that it is considered a generic name for any brand candy of this type.

History

Both written and pictorial records indicate Egyptians prepared sweets with honey, sweet fruits, spices, and nuts. Sugar was not known in Egypt, and the first written evidence of its appearance dates to A.D. 500 in India.

The method of making sugar from the boiled syrup of the sugarcane plant spread from India through the Arab world, and sugar was introduced to Europe sometime around A.D. 1100 It was first thought of as a spice, and even up through the fifteenth century, sugar was so rare that it was used, for the most part, only medicinally, prescribed in minute doses by physicians.

By the sixteenth century, widespread sugarcane cultivation and the technology for refining sugar developed sufficiently that sugar was not such a precious commodity.

Small manufacturers produced crude candies in Europe at that time. The methods used were all simple, and produced the kinds of candies that could still be made at home today. By the late eighteenth century, entrepreneurs had developed candy-making machinery, and more complex candies were made and on a greater scale.