Ramsay-style creamy scrambled eggs & shichimi-guac on top of bacon & sourdough toast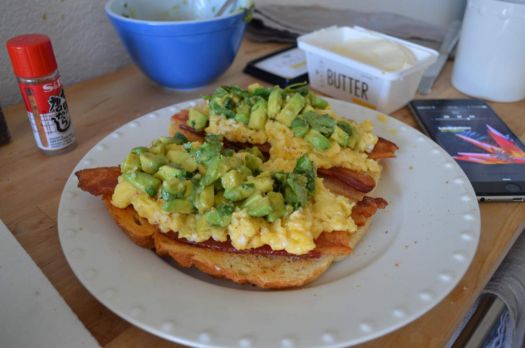 Why are you reporting this puzzle?
From Reddit. The contributor writes,

"It's guacamole - avo, cilantro, touch of minced garlic, lime, salt - with shichimi. Shichimi is short for shichi-mi togarashi, which is a Japanese blend of chiles and spices. I'm using nanami togarashi, which is very similar. Here's a good explanation: http://www.chowhound.com/recipes/shichimi-togarashi-and-nanami-togarashi-10602 I put it on pretty much everything, and it's a great sub (IMO at least) in guacamole for jalapeno/serrano because the nanami togarashi has citrus zest included in the spice blend.

You can definitely buy what I've got (pictured) online, or probably at your local asian grocery. It's the bomb!"