My Granddaughter's Dough Hand Ornament
My Granddaughter's Dough Hand Ornament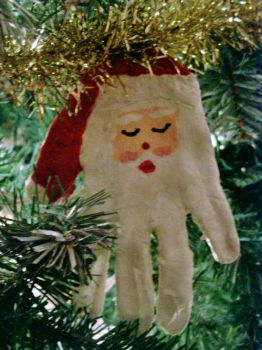 Why are you reporting this puzzle?
This is a great way to keep the little ones hand prints. Made from home made dough,
2 cups flour, 1 cup salt and a little veg oil.
Roll out dough about 1/4 inch thick and have them press their hand down. Cut around the print, poke little pin holes all around the dough, a sewing needle or straight pin works great. Make a bigger hole at top of palm for a hook to hang later. Bake until golden brown and hard. 350 is fine. Paint when cooled. Paint year and age on back of orament. Store your keepsakes in a cool dry place and they will last for many years. Any questions please feel free to ask.
Thumb is hat, palm is face and fingers the beard.