Absinthe #7 - Manet, The Absinthe Drinker - seventh in a series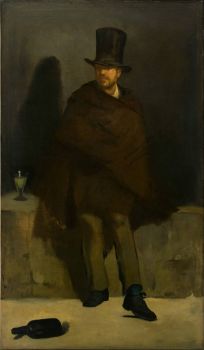 Why are you reporting this puzzle?
The Absinthe Drinker (French: Le Buveur d'absinthe) is an early painting by Édouard Manet, c.1859, considered to be his first major painting and first original work.

Manet became a student in the studio of Thomas Couture from 1850 but grew to dislike his master's Salon style and thereafter set up his own studio in 1856. Little of Manet's earliest work survives and much may have been destroyed by Manet himself.

The Absinthe Drinker is a full-length portrait of an alcoholic chiffonnier (rag-picker) named Collardet who frequented the area around the Louvre in Paris. Collardet is painted in mostly brown, grey and black tones. The subject is standing, wears a black top hat and is wrapped in a brown cloak, like an aristocrat; he leans on a ledge with the empty bottle discarded on the floor by his feet. Manet continued to revise the work after 1859, and added a half-full glass of absinthe on the ledge some time between 1867 and 1872.

Near the completion of the painting, Manet showed the work to his former master. Asked for his opinion, Couture is said to have retorted: "An absinthe drinker! And they paint abominations like that! My poor friend, you are the absinthe drinker. It is you who have lost your moral sense."

The Absinthe Drinker was the first work that Manet submitted to the Paris Salon in 1859. It was rejected, in part because of its subject; absinthe was thought to be addictive and considered morally degenerate, and this was one of the earliest depictions of absinthe in art. The painting, however, also has technical faults; it is unevenly finished, with brushstrokes visible in places, and the legs join awkwardly with the subject's body.

The painting is held in the collection at the Ny Carlsberg Glyptotek, Copenhagen.