Pacock
Pacock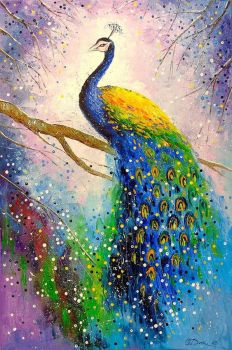 Why are you reporting this puzzle?
Male peafowl are referred to as peacocks, and female peafowl as peahens. The two Asiatic species are the blue or Indian peafowl originally of the Indian subcontinent, and the green peafowl of Southeast Asia; the one African species is the Congo peafowl, native only to the Congo Basin. Male peafowl are known for their piercing calls and their extravagant plumage. The latter is especially prominent in the Asiatic species, which have an eye-spotted "tail" or "train" of covert feathers, which they display as part of a courtship ritual.

The Indian peacock has iridescent blue and green plumage, mostly metallic blue and green, but the green peacock has green and bronze body feathers. In both species, females are as big as males, but lack the train and the head ornament. The peacock "tail", known as a "train", consists not of tail quill feathers, but highly elongated upper tail coverts. These feathers are marked with eye-spots, best seen when a peacock fans his tail.

Peacock loves to eat blue berries, grains, small mammals, reptiles, small snakes and insects. They like ants, millipedes, crickets, termites, centipedes, locust and scorpions. lettuce, celery leaves, bananas, carrot tops, vegetables.