Orange Yuzu-Glazed Cornish Game Hens and Stuffed Beef Tenderloin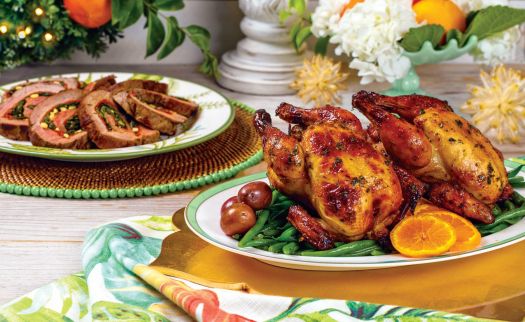 Why are you reporting this puzzle?
"By Bryan Sutton, Executive Chef, Veranda E at The Hotel Escalant" gets credit for this one.

4 Cornish Game hens
Salt and pepper to taste
1 lemon, quartered
4 sprigs fresh rosemary
16 cloves of garlic
3 tablespoons of olive oil
1/3 cup chicken stock

Glaze

½ cup orange marmalade
4 tsp. dijon
1 tsp lemon juice
1 tsp Yuzu Kosho
Preheat oven to 450 degrees F.

Rub hens with 1 tablespoon of the olive oil. Lightly season hens with salt and pepper. Place 1 lemon wedge and 1 sprig rosemary in cavity of each hen. Arrange in a large, heavy roasting pan, and arrange garlic cloves around hens. Roast in preheated oven for 25 minutes.

Reduce oven temperature to 350 degrees F. In a mixing bowl, whisk together marmalade, Dijon, lemon juice, yuzu kosho; pour over hens. Continue roasting about 25 minutes longer, or until hens are golden brown and juices run clear.
Blanch green beans in salted water for 2 minutes, strain and reserve
Transfer cooked green beans to a platter, then arrange the hens on top. Tent hens with aluminum foil to keep warm. Garnish with rosemary sprigs, and serve.



MISCHKA here... If you also want the recipe for the steaks, you'll have to click on the link below.