XERONEMA CALLISTEMON...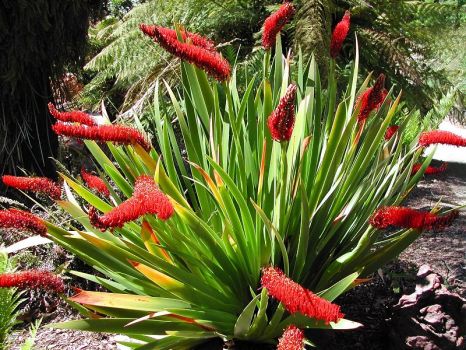 Why are you reporting this puzzle?
ALSO KNOWN AS "POOR KNIGHTS LILY"
A VERY RARE SPECIES THAT IS FOUND ONLY ON POOR KNIGHTS ISLAND IN NEW ZEALAND. IT HAS 7 TO 10 INCH LONG BOTTLE BRUSH FLOWER CLUSTERS THAT GROW HORIZONTALLY. SOMETIMES THEY'VE EVEN BEEN KNOWN TO GROW UP TO 15 INCHES LONG. THEY RESEMBLE A GIANT RED TOOTHBRUSH TIPPED WITH BRIGHT ORANGE POLLEN. IT IS CONSIDERED TO BE A VERY CHALLENGING PLANT TO GROW. IT CAN GROW TO 3 FEET TALL AND 6 FEET WIDE AND IS A SPRING-BLOOMING PLANT THAT NEEDS A MILD CLIMATE BETWEEN 40 TO 75 DEGREES!