Close Up Of Night Blooming Cereus Bloom From Side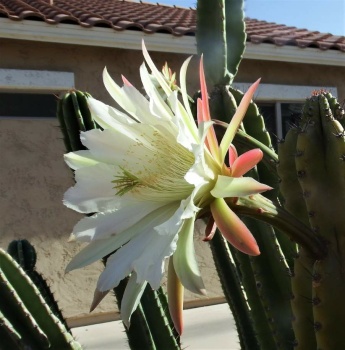 Why are you reporting this puzzle?
For several years I occasionally drove by this rather ugly, scrawny cactus in our neighborhood and wondered why the owners kept it. Then one morning I saw it full of beautiful large blooms. I thought I'd stop and get pictures of it on the way home. But--the blooms had all dropped off by then! Two mornings later I drove by again and there were a few new blossoms. I took this photo. I looked it up and found it was a variety of Night Blooming Cereus. The blooms open during the night and are done by afternoon. By the end of the week the cactus was finished blooming. The blooms were very large and gorgeous while they lasted.