King penguins in the Falkland Islands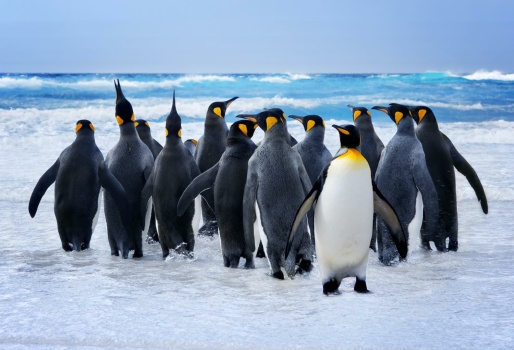 Why are you reporting this puzzle?
"Wuhu, we're going for a swim, you guys!"
How about this gorgeous gang of penguins
in the Falkland Islands
happily going into the South Atlantic Ocean?
The Falkland Islands counts East Falkland, West Falkland, plus 776 smaller islands and are self-governing British Overseas Territory. About 4,000 people live on the islands (by 2016 count). They get to enjoy the company of no less than five different species of penguins: Rockhopper penguins, Gentoo penguins, Magellanic penguins and King penguins.
King penguins, featured in Today's Daily Puzzle, can grow up to a metre tall and are the second largest penguins globally (the Antarctic emperor penguin is the tallest).
Here, you'll find
a loving article about meeting the penguins on the Falkland Islands
– and, by the sound of it - not wanting to leave them again.