Adonisette and the Adonais.......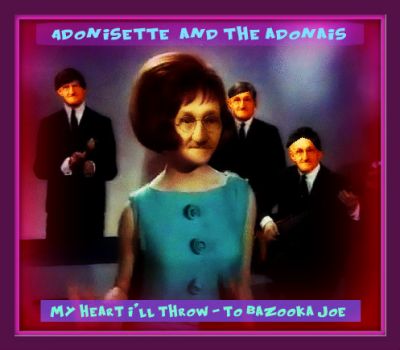 Why are you reporting this puzzle?
Auntie Adonisette tried to prevent me from showing this still from 'The Ed Sullivan Show' as she doesn't like to brag about her past achievements, but I believe our followers should see just what a talented gal she was.......
The song "My heart I'll throw - To bazooka Joe" caused a sensation when released in October 1965, and Adonisette, along with her back-up group The Adonais (Art, Andy and Anselm Bugosi) were mobbed wherever they went.........
The singing sensation soon tired of the rock n' roll lifestyle and became a shy recluse, sharing her
Beverly Hills mansion with her beloved tadpoles.....and that is why she never married.......till now.......